Rosie the Riveter is a symbol of strength and unity for women everywhere.  According to History.com
"Rosie the Riveter was the star of a campaign aimed at recruiting female workers for defense industries during World War II, and she became perhaps the most iconic image of working women. American women entered the workforce in unprecedented numbers during the war, as widespread male enlistment left gaping holes in the industrial labor force. Between 1940 and 1945, the female percentage of the U.S. workforce increased from 27 percent to nearly 37 percent, and by 1945 nearly one out of every four married women worked outside the home."
I've always loved this image and wanted to create a graph I can make into an awesome throw.  This will be my next long term project after I finish the mini-spiderman throw for my grand baby 🙂 !  I spent a lot of care to make it as easy as possible (with only 10 colors) and also decided to create a written pattern for both C2C and row by row if you want to work the pattern in single, double, or half-double crochet.
Also included is a full grid graph, and close-ups of the graph, as well as 4 pages of a close-up the graph sectioned off for easier viewing.  The file is 14 pages.
You can find the full PDF version on Etsy by clicking the photo below.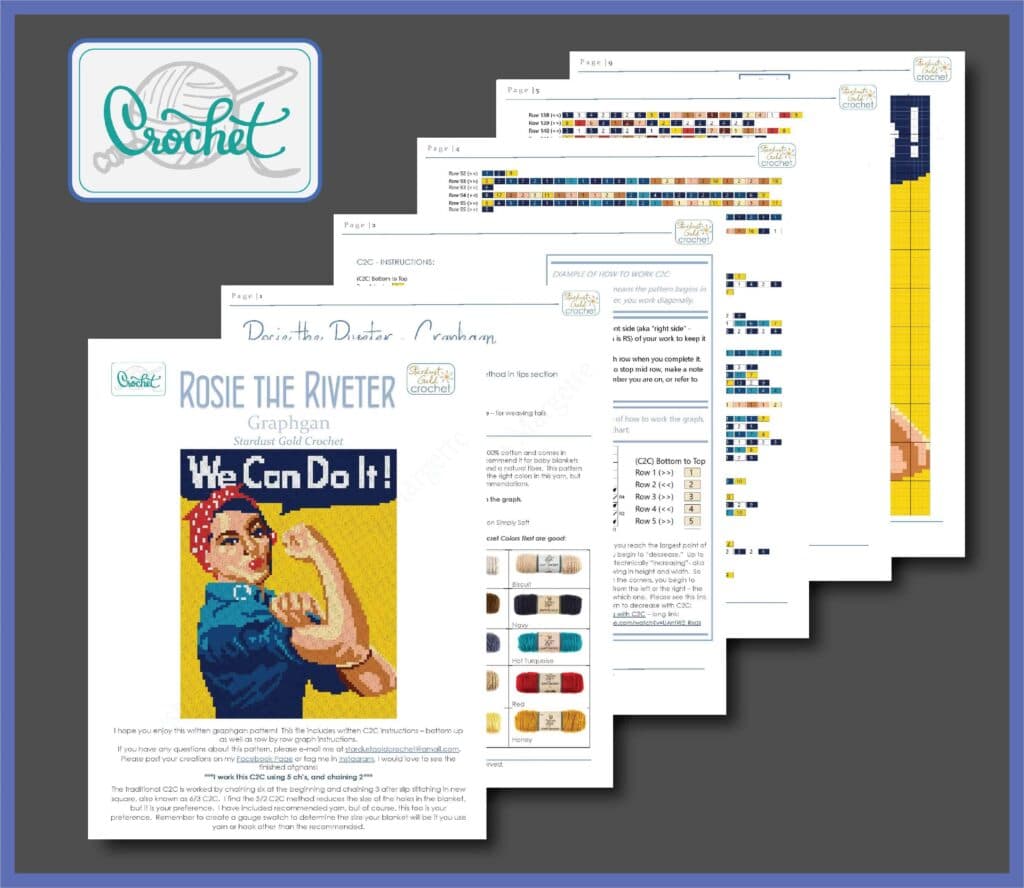 The graph is 85 x 109 stitches (color blocks).
I've made some yarn suggestions in the pattern, but you're welcome to use whatever worsted weight yarn you'd like.
The pattern also includes detailed instructions on how to create a C2C blanket and links on how to make decreases.
I would love to see your finished projects, links to my social media is located at the bottom of the last page :).
I'm always happy to help with patterns, so please don't hesitate to contact me with any questions!
Happy crocheting