I got a call from my Aunt Carole and she said "Hey Tasha, you're mom would really love one of those cute crochet coffee mug cozy's for Mother's Day!" I was like "Well okay!" and at first I thought I'd just find one online and make it, but of course, the designer in me was like – nope – I'll create one on my own and share it with my Stargazers (of course!) This patterns is super quick, making it perfect for whipping up a quick crochet gift, hence the name Quick Beginner Crochet Coffee Cozy.
Gifts Galore Blog Hop!
Welcome friends! If you are here for the Gifts Galore Blog Hop – remember you can grab all the patterns in one bundle here.
Scroll down to get the FREE pattern – look for the DOWNLOAD BUTTON. Need the code? Head over to the Gifts Galore Blog Hop Post and Grab it!
In this post You will Learn…
How to crochet a coffee cozy.
Crocheting the surface stitch.
Crochet up and down stitch.
Sewing a button on your crochet project.
Get all my patterns in one place…
The Quick Crochet Coffee Cozy pattern is also available as an ad-free, printable PDF! You can purchase the individual pattern, or if you love PDFs, you might want to check out my Lifetime Membership. It's an awesome deal! Never pay for one of my PDFs again!! (Or, scroll down for the free version!)
CLICK HERE FOR THE CYBERMONDAY SALE – 50% OFF THE LIFETIME MEMBERSHIP
74+ PATTERNS
Fun Printables
ALL future patterns!
Join my Pattern Support Group on Facebook
I have a crochet group for pattern support! Stardust Gold Crochet & Friends. We have fun and share crochet patterns, stories, and courses; you can ask me about any pattern in my library for support.
Crochet Coffee Cozy Pattern – Beginner Crochet Crochet Pattern
The Quick Crochet Coffee Cozy is a free crochet pattern made with the crochet beginner in mind. Scheepjes Stone Washed is such a wonderful yarn to use because it has sooooo many awesome colors. I used several combos in the samples…
Video Tutorial for Visual Learners
Crochet coffee cozy's are a lot of fun and work up so fast. This pattern has endless color combos and so easy to modify. If you are a crocheter that does festivals or fairs, this will be a perfect addition to your product line! Check out the full video tutorial! >>> Easy Quick Crochet Coffee Cozy Pattern Pattern Video Tutorial.
Coffee Cozy Crochet Pattern
Bookmark this page and add it to your list of free crochet Coffee Cozy Patterns!
Let's get started!
The inspiration for this design comes from coming up with a quick project that is mother approved!
Quick Coffee Crochet Cozy Pattern | Easy Beginner Crochet Pattern
Remember to add this to your list of easy crochet cozy patterns or beginner crochet cozy patterns.
It's all About the Yarn…
I used Scheepjes Stone Washed for this pattern in some fun colors. Doubling up the yarns in contrasting colors.
+ Skill Level
Easy
+ Gauge
Not important for this one.
+ Materials
4.5 mm (USA G) or 5.5 (USA I) hook
Darning Needle
Scissors
1" – 1.5" button
Suggested Yarn:
Scheepjes Stone Washed or other sport weight yarn (16 WPI).
Yarn Details:
78% Cotton, 22% Acrylic, 186 yds (170m) 3.5 oz (50 g) per skein.
Colors:
Green Agate (815) Turquoise
Yellow Jasper (809) Gold
Moonstone (801) White
Rose Quartz (820) Pink
Corundum Ruby (808)
+ Sizes/Finished Measurements
12.5" (31 cm) long x 3.5" (9 cm) tall using 5.5
mm crochet hook and 3-weight yarn.
Yardage Needed:
A little of each color – these don't take a lot of yarn at all!
+ Abbreviations:
| | |
| --- | --- |
| sc | single crochet |
| dc | double crochet |
| st(s) | stitches |
| ch | chain |
| fsc | foundation single crochet |
| RS | right side |
| * | *repeat instructions from * |
+ Stitch guide:
Basic Stitches:
(Underlined stitches are clickable)
sc – single crochet
Insert hook in indicated st, yo, draw up a loop, yo draw through both loops on hook.
dc – double crochet
Yo, insert hook in indicated st, yo, draw up a loop, *yo, draw through 2 loops, repeat from * two times.
fsc – foundation single crochet
to start – ch 2, insert hook in 1st ch, yo, pull up a loop. ch 1, yo, pull through both loops on hook. (1 fsc created). To create 2nd stitch – *insert hook in bottom 2 loops of the ch 1, yo, pull up a loop. ch 1, yo, pull through both loops on hook* – repeat from * to * to desired fsc.
+ Pattern Notes:
Pattern is worked in rows.
Surface stitch is worked after border is complete.
Use 2 strands of yarn together.
More Free Crochet Patterns…
If you love making crochet headbands, I have quite a few other cute and fast crochet headband patterns here >>>
+ Pattern: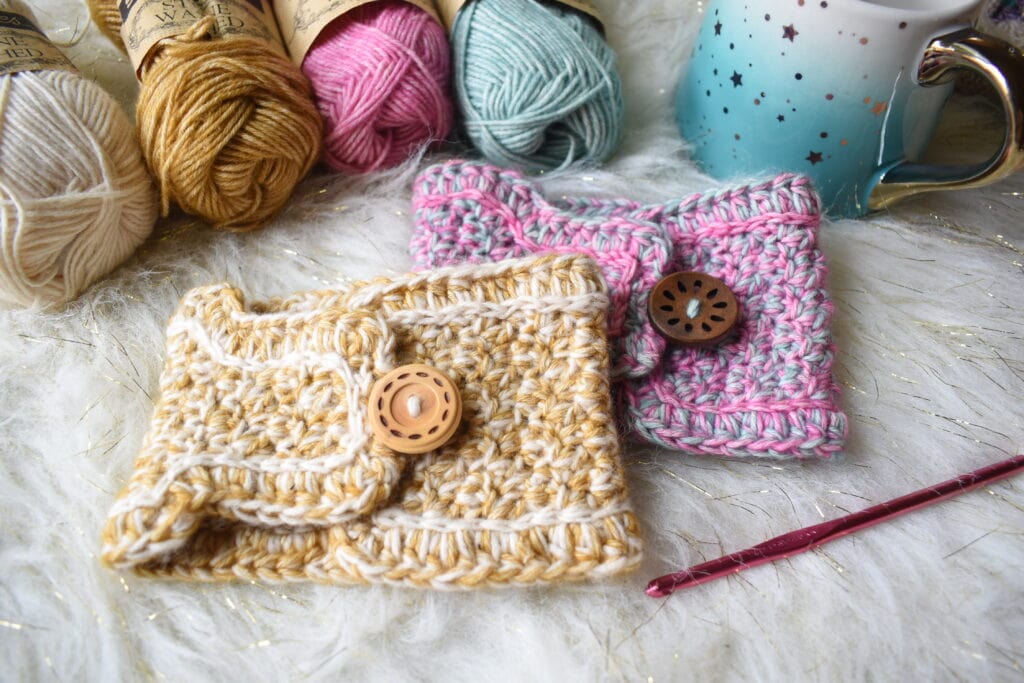 Adjust the Height:
To make is shorter or taller, reduce or increase foundation stitches in increments of 2, i.e., fsc 8, 6, 4, etc.
Row 1: Fsc 10.
Row 2: Ch 2, turn, *dc 1 in next st, sc 1 in next st, repeat from * across – 10 sts.
Adjusting the Length:
Crocheting 27 rows = around 12.5" (31 cm) – you can decrease the number of rows to accommodate the circumference of your water bottle, coffee mug, etc.
Rows 3 – 27: Repeat Row 2, tie off.
The following row will be different if you decided to modify the pattern. The pattern works in multiples of 2, and Row 28 is the thinner part of project where you will create the button hole at the top. You can work this using the up and down stitch by alternating a dc and a sc.
Row 28: Attach yarn in third stitch from right (RS facing you), ch 1, sc in same as join (work your tails in as you go), (dc 1 in next st, sc 1 in next st) 2 times, dc 1 in last stitch – 6 sts.
Rows 29-32: Ch 1, turn, *sc 1 in next st, dc 1 in next st, repeat from * across – 6 sts.
Row 33: Turn, slip stitch in next 2 sts, ch 6, skip 2 sts, slip stitch in next two sts – 4 sl st, 1 ch-6
Don't cut yarn…
+ Border & Assembly
Border: (hdc 1, ch 1, hdc 1) in corner stitch, hdc in each end of row around, crochet (hdc 1, ch 1, hdc 1) in each corner.
Finishing Touches:
Please see video tutorial for instructions on creating the surface stitch.
Attach button using one strand of your contrasting yarn using an X pattern or a square pattern.
For some reason I am having trouble seeing the embedded video – If you are too, check out the video here: https://youtu.be/bpIFBTax_XE
Congratulations! You Are Finished!
Pin it, Instagram it with #CrochetCoffeeCozyPattern or #StardustGoldCrochet
I hope you enjoyed creating this easy beginner crochet pattern! Please share your finished works with me by using the hashtags mentioned above, I would love to see them.
Please leave any comments below, and thanks for visiting!
My socials
Facebook * Instagram * Ravelry * Etsy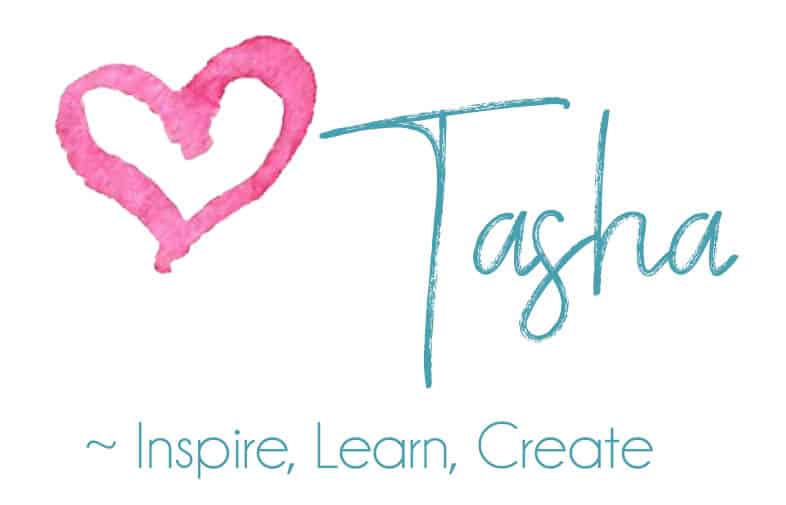 *any FREE pdf download participants agree to my privacy policy.