You asked, and I deliver! A few crochet buddies in a crochet group on Facebook said they want a C2C Baby Yoda graphgan pattern. I designed this baby yoda pattern a few months ago, but it's time to say, here it is! The Child (Baby Yoda) C2C is a free crochet pattern filled with love and you'll find the written pattern, as well as a graph for printing.
Even if you are not a Star Wars fan, baby Yoda is just too cute. I created a few different designs and settled with the hearts because they seemed to fill the white space and make it a little cuter. lol.
I grew up watching the Star Wars movies, and of course, being in love with Yoda, but this little guy overrides the Yoda of my youth. He is just adorable.
The written C2C pattern uses color blocks, which makes crocheting the blanket a bit easier. However, if you prefer to work from a graph, there is crochet graph available for print out below too.
The color scheme is Red Heart Super Saver done colors, which makes it easy to find colors to match the graph, but you're welcome to use any colors you see fit! It's your creation and I can't wait to see it when you are finished. Please use hashtag #babyyodaC2C or #stardustgoldcrochet to show me your work!
If you would like to join my Stardust Gold Crochet Pattern Support group, you can find that here or click the button below.
Ad-free versions of The Child (Baby Yoda) C2C:
I offer several ways to grab this crochet pattern. Of course, the C2C pattern is free on the blog, if you scroll down. I also have an ad-free version for FREE download when you sign up for my newsletter, and for $4.50 from my shop.
Grab ad-free PDF > file – The Child (Baby Yoda) C2C Crochet Pattern PDF
Stardust Gold Crochet Lifetime Members – log in to your account and head over to the downloads to grab your free PDF.
In this post…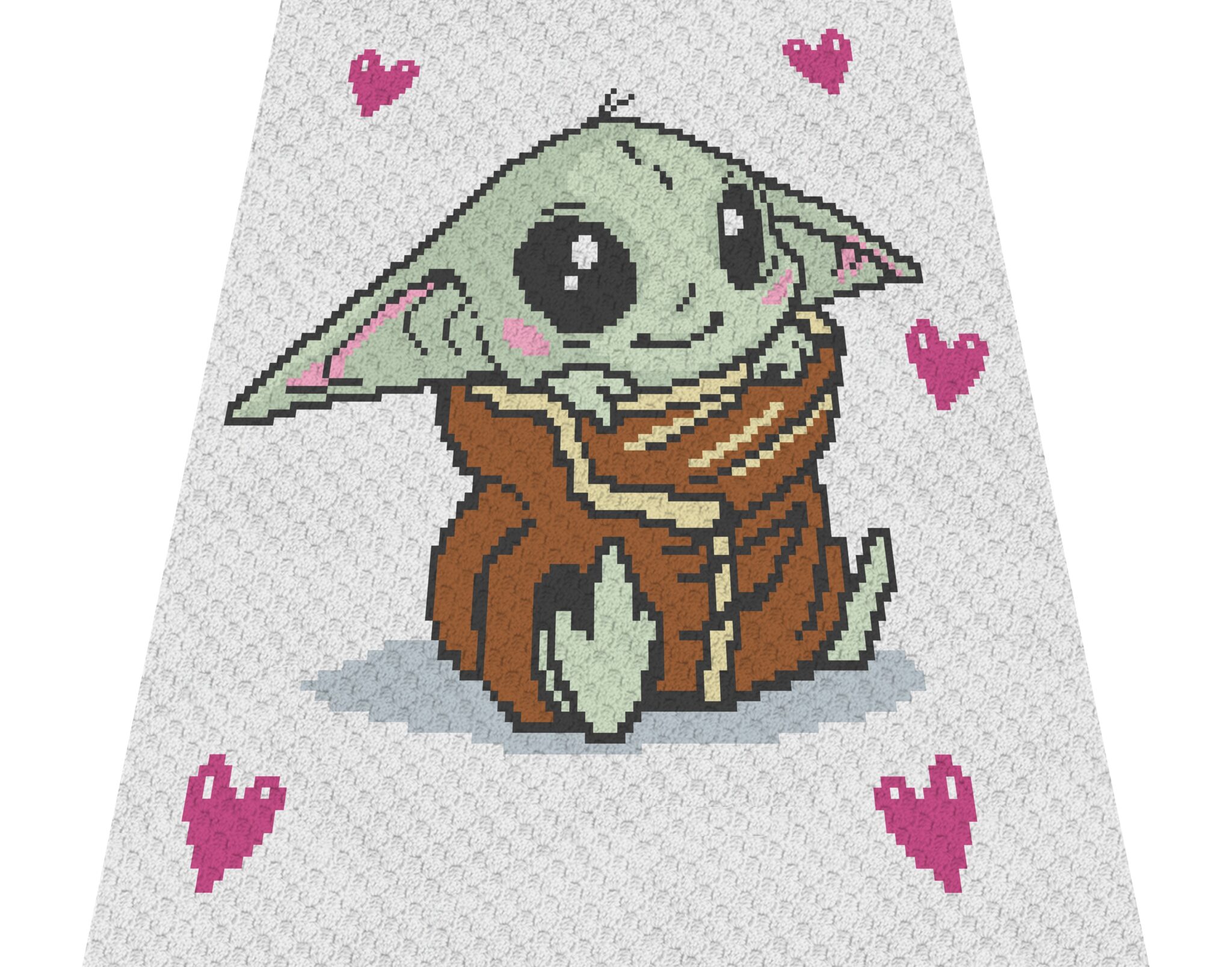 The Child (Baby Yoda) C2C Crochet Written Pattern
The Child (Baby Yoda) Crochet Graph
The Child (Baby Yoda) C2C Crochet Pattern
I really enjoyed creating this pattern. As I mentioned in my post for the Bundled Bernie C2C graph pattern, creating crochet graphs is very satisfying. It allows me to get out my art vibe and also share some entertaining designs in the process.
Crochet graphs are so much fun to create and remind me of the paint-by-number artwork from the '70s. What I love most about graphs is you can create just about anything. It can be time-consuming to create crochet graphs, though. A lot of detail and pixel-by-pixel work goes into it.
The finished graphghan ends up being a masterpiece, though, and that is my favorite part.
When I created my first crochet graph, the Rainbow Unicorn C2C graph (another freebie), I wasn't aware of what I was getting myself into! I didn't realize it would take hours and hours of work to perfect it; make sure there was no white space or blank squares.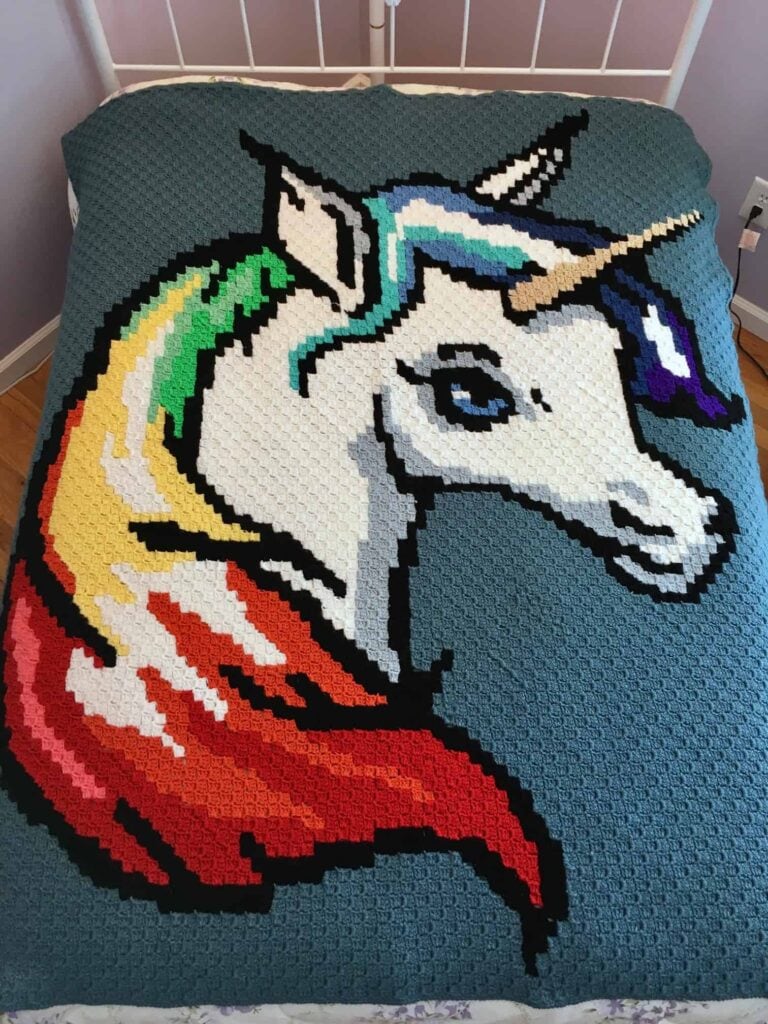 Another learning curve was discovering the size. Larger grid sizes look great! BUT, they are unrealistically HUGE unless you want to work the graph in a row-by-row fashion. Which is great, but we love C2C!
Below I've included some links to other posts I created about C2C and the graphing program I use to create my graphs. I've also included links to my C2C blanket size calculator, which has proven to be one of my most popular posts. For a good reason, too, it is so beneficial.
I really appreciate you stopping by my blog to get your free baby Yoda (the child) C2C graph! Time to get crocheting!
I've mentioned this a few times before, but I LOVE to see others work. Please share with me!
Are you new to C2C? Check out the following posts to help you get started on learning how to C2C. I've created a few calculators and posts on the basics of C2C.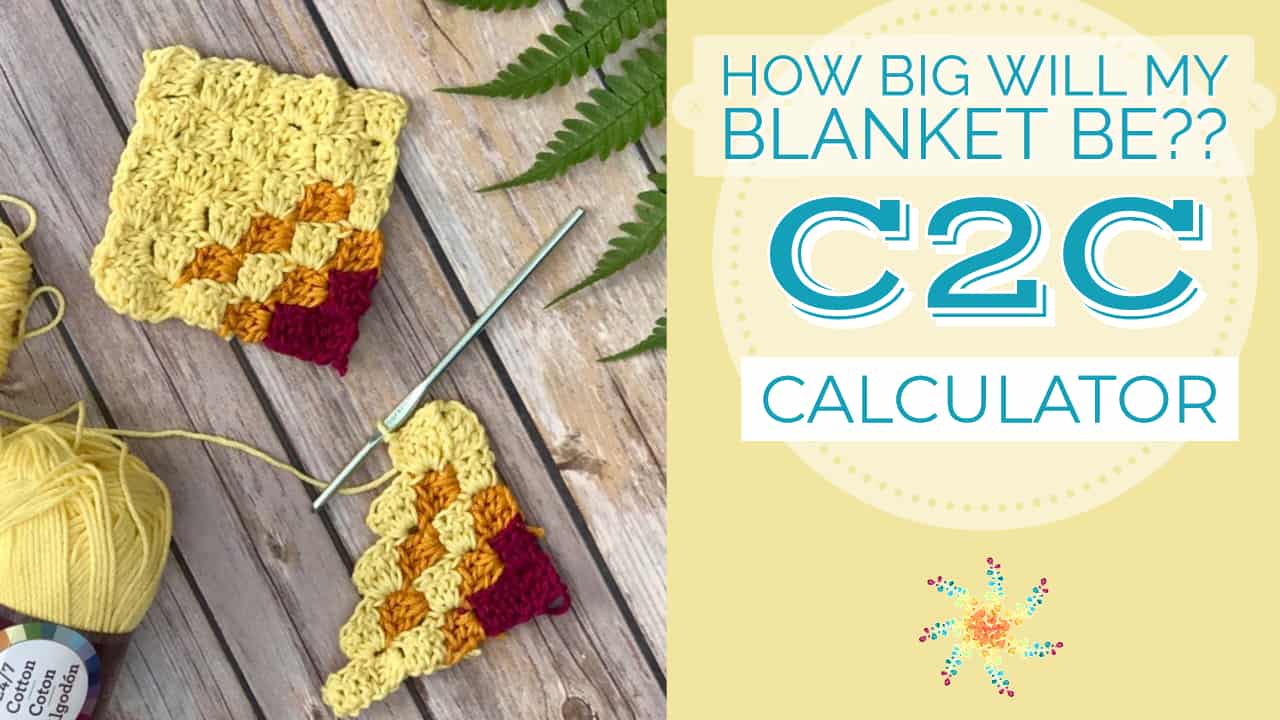 The Child (Baby Yoda) C2C Free Crochet Pattern
C2C Written Color Blocks :
Grab your yarn and hook!
+ Materials
This part is up to you, but I used colors to match Red Heart Super Saver in this pattern.
The stitch count can give you a better idea of how much yarn you will need for your project using Red Heart Super Saver yarns. You can find the stitch count below, along with a list of the recommended colorways.
Of course, you can use any yarn you'd like! Remember to use the C2C blanket size calculator to determine how big your blanket will be.
+ Suggested Yarn
Below are the colors listed in the graph – see color chart below
Red Heart Super Saver Yarn Colors
| | |
| --- | --- |
| Name: | Stitches |
| Soft White | 9145 |
| Warm Brown | 923 |
| Frosty Green | 945 |
| Black | 1518 |
| Honeydew | 825 |
| Buff | 218 |
| Light Grey | 325 |
| Light Rasberry | 410 |
| Petal Pink | 91 |
I Have a Bunch of Free Crochet Patterns & Stitch Tutorials!
C2C Baby Yoda (The Child) Written Pattern
Below you will find the written C2C crochet pattern for Baby Yoda, along with the graphs. The written pattern looks a little funny here, but the Baby Yoda (The Child) C2C Crochet Pattern PDF is prettier, of course!
The PDF includes Row-by-Row written crochet pattern too! I hope you enjoy creating this crochet pattern!
When you finish creating it, please feel free to tag me at @stardustgoldcrochet or use the hashtag #BabyYodaC2C or #stardustgoldcrochet. My socials are in a neat link at the bottom of the page, or you can find them in the sidebar too.
The Child (Baby Yoda) C2C Written Crochet Pattern
The easiest way to download these images (because I use .webp extensions to make my site faster) is to take a screenshot or screen clipping or use your mobile phone to download.
Baby Yoda C2C Crochet Graph
The best way to use these crochet graphs is to download them, print them out and tape them together. Because the graph is somewhat large, it may be difficult to see all the squares if you print it out on an 8.5″ x 11″ piece of paper.
Download full size image here.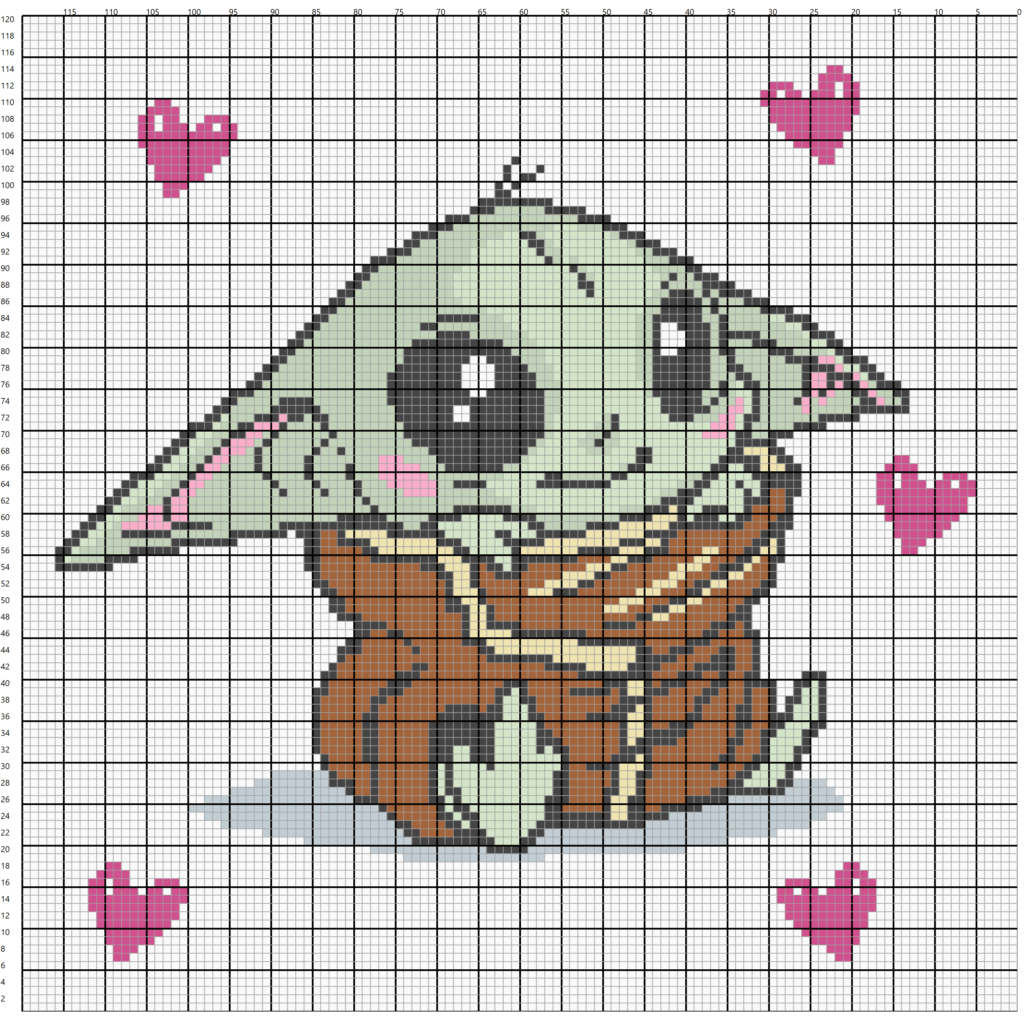 Congratulations! You Are Finished!
I hope you enjoyed this free pattern! Please share your finished works with me and share with your friends by using the hashtags mentioned above, I would love to see them.
Pin it, Instagram it with #BabyYodaC2C or #StardustGoldCrochet
POPULAR POSTS