disclaimer: I'm in no way affiliated or earning a commission from these companies, I am just reviewing them based on my own personal experience.


~ tasha
Join me in exploring the world of graphs! I absolutely love creating graphs and I only wish I had enough time to make all the graphs I've created. Lately, I've been using graphs to create beanies (which is SO cool!). This MEOW! beanie was made using graphing. This is a FREE pattern you can find here.
I also used graphing for my Fair Isle crochet beanie (FREE CAL), and the Keep Shining beanie. Better yet, you can check out all the graphs (not many 🤣) I've created using these programs here!
I love this technique so much I created a calculator to help you figure out how big your project will be! Here is the link for the C2C Blanket Size Calculator.
If you don't know the basics of C2C yet, head on over to this post first, then come back and check out these great programs.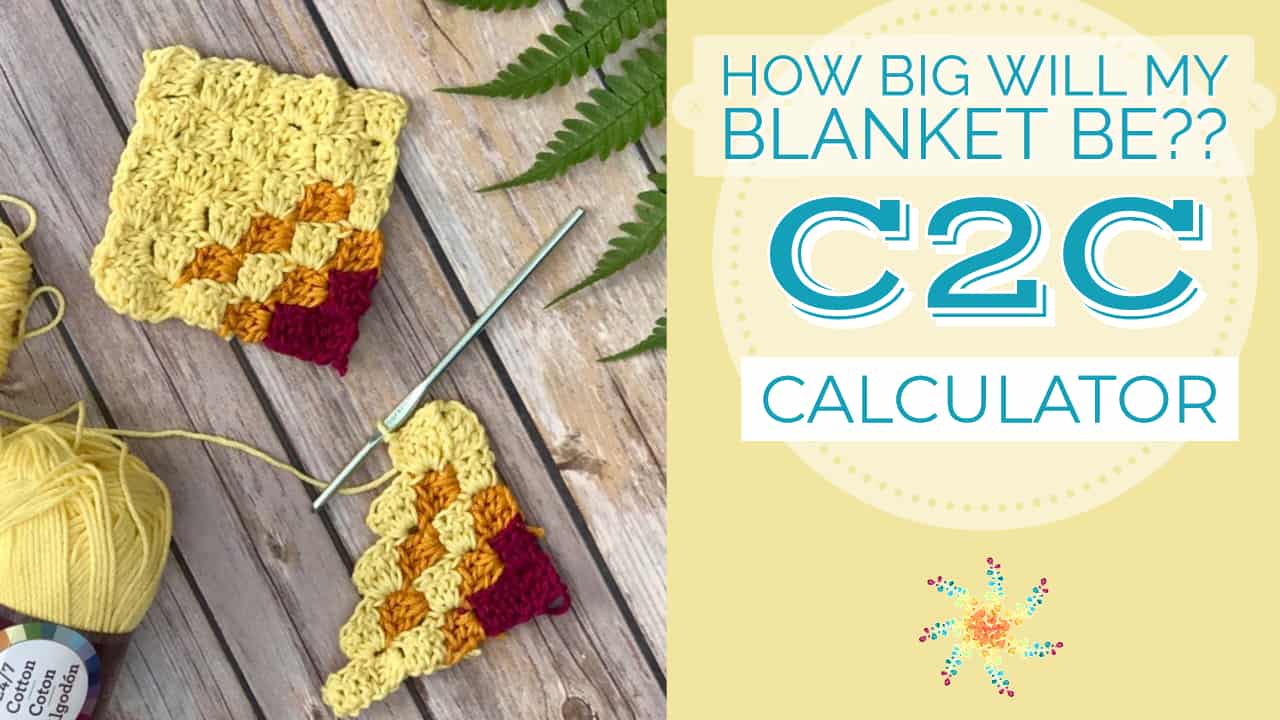 Let's get to it!
So, in the past year and a half or so, I've played around with a lot of graphing programs. I wanted something that was easy, fast, and had pretty graphics. I also wanted something I could easily turn into a PDF pattern to upload to my sites.
This is what I've discovered.
Here is the shortlist for your reference (with links), and if you scroll down, I've listed the pros and cons for crocheters (best on top)
Learn How to Create Crochet Graphs
Best Graphing Programs For Crochet
C2C and Row-by-Row graphs
Winstitch by Ursa Software is by far my favorite and one of these days I'll get around to doing a video tutorial for it. You can import photos, clip-art, and also draw graphs from scratch. It exports them into Tunisian/C2C/Afghan in color blocks & written, which is so wonderful! This is what I use to create my graph patterns.
Price: Around $48.00
Pros
~ Downloads to your PC
~ Creates written C2C and written Row-by-Row graphs (for right and left-handed people)
~ Import Photos and turn them into graphs
~ Lots of export capabilities including PDF.
~ Wonderful choice of colors
~ Easy to learn
Cons
~ Importing clip-art adds extra colors that aren't even there!
~ It's primary function is for cross-stitch
~ Takes a bit of time to clean up the images
~ It can be a little daunting to learn, but once you get the hang of it, it's great.
Price: $49.95 – you can purchase here, and it has a free trial which is highly functional too.
Pros
~ Has a downloadable program for your PC
~ Ability to create and export graphs in grids
~ Creates a nice textured effect
~ Color choices are accurate
Cons
~ It's a little pricey
~ It's primary function is for cross stitch
~ No written pattern export, only graphs
~ Similar to WinStitch it will add extra colors, which makes for a lot of clean-up
Price: Free – with more options unlocked with monthly subscription
Their site doesn't have a lot of graphics, logos, or bells n' whistle's. This is a screenshot of their main page.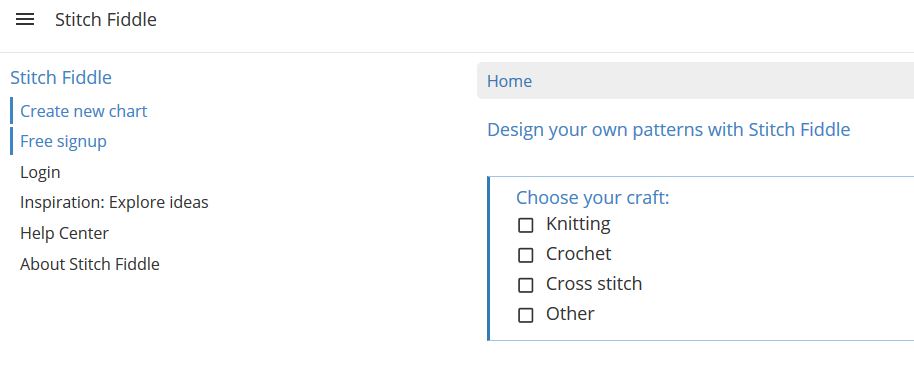 Pros
~ Includes charting software (charting is different from graphing) Here is an example of a Tunisian simple stitch chart.
~ You can customize graphs for all kinds of fiber arts
~ Free version is very useful
~ Includes knitting, crochet, cross-stitch and "other"
see below for some screenshots..
The options for creating different types of crochet charts is great. I love Tunisian crochet and find it hard to find graphing programs that incorporate the stitches for Tunisian crochet, so Stitch Fiddle is worth the $22 a year to create such beautiful graphs.
~ Friendly user interface
~ Plenty of colors to choose from
~ Exports to pdf, png, jpeg, and many other formats
~ Written pattern export available for a fee
Cons
~ Exporting more than just color blocks requires a monthly subscription, although it may be best to just buy a year subscription if you use it a lot.
~ Written pattern doesn't include color blocks; this can be a little daunting because the colors are just written out without yarn descriptions or names. If there is a way to change this, I'll figure it out and share it with you.
~ You must manually enter stitch abbreviations & descriptions – this can be cumbersome. I am guessing they did it like this because it offers the ability to create instructions in a multitude of languages, in addition to varying terminology.
Price: FREE with an option for premium features.
This is a useful program for most projects and delivers a full graph, written pattern, and even sections it off into pages, which is extremely helpful.

Pros
~ Instant turn-around
~ Basically it's plug and play, you upload your photo and enter a few criteria and walla!
~ Exports written pattern & graph simultaneously.
~ Easy to learn
~ You can choose Red Heart yarn colors for export
Cons
~ Absolutely no way to change or clean up the image.
~ The color sensitivity section is a little confusing. If you want to limit the color palette to only a few colors, you have to set the value very high (385-500), and if you want more colors you must set the value low (0-20). This can be confusing because when creating a crochet graph, we certainly don't want to use 20 skeins of yarn now do we?
~ Limited. Don't get me wrong – it's a great program, but the limitations of being able to clean up stray color blocks is not good. Maybe I just haven't figured out how yet. They do have an option for "Stray Pixel Cleanup" – but I've experimented with all three settings and it doesn't always catch that one white in the middle of a sea of black. The unfortunate part about that is the program will incorporate that one white block into the written pattern.

I found a couple of free iPhone apps that are great for working up simple small graphs on the fly. They are really great, with a one big CON…the ads. I haven't found one that doesn't have ads yet, but if you find one please comment below! I'd love to find one.
I hope this helps you make a decision when deciding what graphing program to use when creating your beautiful graphs. Here is an example of a C2C graph blanket by the Make & Do Crew
Happy crocheting! If you have any questions or want to talk graphs, hit me up in the comments <3