Hey Makers! The Rainbow Unicorn graphgan pattern is finally free! I hope everyone had a great holiday. Mine was nice. I'm in the process of moving right now, so honestly, it has been a strange one for sure. No decorations up, but getting a fresh start for January is nice.
I'm in the process of setting up my crochet studio, and can't wait to show you guys as it comes along. Maybe you can help me with decorating tips! I'm not so good at decorating but working on it. 😊.
The Rainbow Unicorn release is a long time in the making, and I'm very excited to share it with you. The Rainbow Unicorn graphgan is a project I released last year and have been wanting to release for free for a while now. I hope you all enjoy it.
note: This graphgan has three versions. A row by row version, and a C2C version in two sizes. The dimensions are slightly different for C2C versions, and I will cover that in this post.
What is C2C? How do I do it?
Learn the basics of C2C here… (click photo)
C2C Tools
How Big Will My Blanket Be?
I get this question a lot. To solve this problem I created a couple of calculators that determine how big your blanket will be. These use your own personal tension, hook, and yarn choice.
(click photos to take you to blog post)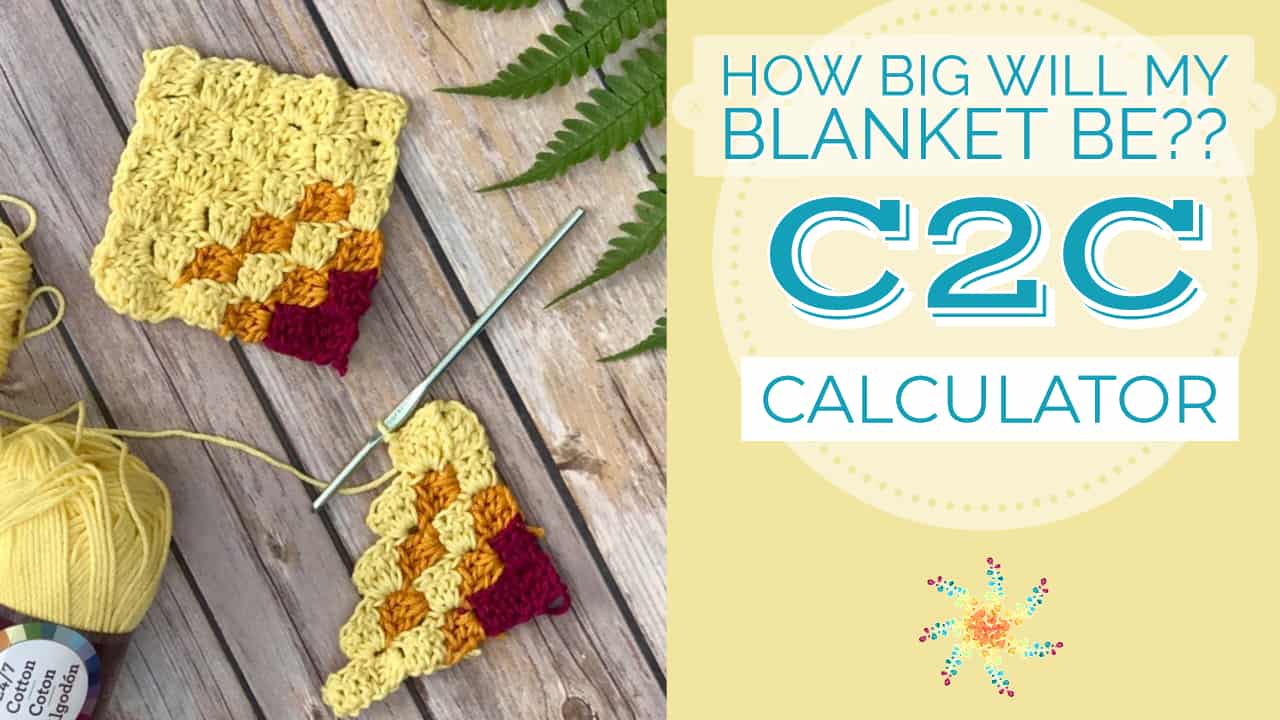 ---
---
This pattern includes written C2C instructions, written Row by Row, and a larger graph, all worked bottom up. 😊 If you have any questions about these patterns or need pattern support, please join my Pattern Support Group here:
***I work C2C using 5 ch's, and chaining 2***
The traditional C2C is worked by chaining six at the beginning and chaining 3 after slip stitching in the new square, also known as 6/3 C2C. I find the 5/2 C2C method reduces the size of the holes in the blanket.
---
Suggested Yarn:
I've received a lot of questions about what yarn to use for this. In the PDF there is a recommended yarn, but I leave out the yardage. The reason behind this is because not everyone prefers to use the recommended yarn, and will choose to use various hook sizes.
Download the PDF and use the recommended yarn or use a yarn of your choice. I've come up with some tools to help you determine how large your blanket will be below. They are the C2C blanket size calculator and Row by Row blanket calculator.
Tips
Want to make it bigger? Use a larger hook and heavier weight yarn.
Make it smaller? Use a single crochet stitch or Tunisian crochet simple stitch, you can also decrease the weight of the yarn.
C2C – measurements for C2C using recommended yarn and G hook (4.00mm) will be about 4′ x 4.5′ – Remember to use the C2C calculator to find out how big your blanket will be with your chosen yarn and hook size.
All of these patterns can be worked in a single crochet or Tunisian crochet simple stitch. Of course, that will alter the dimensions of the blanket, but here are some tips on dimensions:
These beautiful photos were sent to me by a maker who finished the graphgan using Vanna's Choice yarn, and a G hook (4 mm).
---
Pattern:
---
There are three patterns in total.
Graphgan #1:
The first graph is a picture graph only, not a written pattern. The dimensions are 100 x 115 stitches with a download for full resolution. The images below the main graph are each section.
Graphgan #2:
The second graph is PDF download, C2C written + graph (90 x 100 stitches)
Graphgan #3:
The third graph is a PDF download, Row by Row written + graph (90 x 100 stitches)
Wondering How to Download Pictures and PDF's ?
Scroll down to the "download" buttons
Click to download
Check your download folder in your browser
Click the "save" button to save the PDF to your computer or mobile.
Remember to check your download folder
Rainbow Unicorn Graphgan # 1: 100 x 115 sts
---
Grid 1
---
Grid 2
---
Grid 3
---
Grid 4
---
Rainbow Unicorn Graphgan # 2: C2C Written & Graph (90 x 100 stitches)
---
Rainbow Unicorn Graphgan # 3: Row by Row Written & Graph (90 x 100 stitches)
I hope you enjoy these patterns!
Please share your finished blankets and tag me, please! I would love to see the finished work!