Are you ready for a crochet adventure like no other? The Choose Your Own Crochet Along (CAL) is here, and it's packed with amazing patterns and resources to make your holiday season truly special. The Winter Woodland Animals Crochet Along includes 8 adorable Winter Woodland Animals 🦌Crochet Patterns!
Choose Your Own Crochet Adventure!
Choose to crochet one or ALL! Here are the cute animals you get to choose from:
🐻 Bear
🦊 Fox
🦌 Deer
🐿️ Chipmunk
🦔 Hedgehog
🦨 Skunk
🐇 Rabbit
🦝 Raccoon
Make one or make them all!
This is a FREE crochet along – but there is so much more to it…so keep reading!
Curious about the All-Access Pass? >>> Check it out here All-Access Winter Woodland Animals Pass.
For easy navigation, please use the Table of Contents below.
What's a Graphghan aka Pixel Crochet?
A graphghan (pixel crochet) is a grid pattern you crochet in corner-to-corner crochet – OR – a row-by-row pattern. The great thing about graphghans is the size of your finished project is completely up to you!
How do I Make Different Sizes?
Well, you control the yarn and hook size to give yourself flexibility. To give you an example, I hosted a Mystery CAL last year for the Kawaii Pumpkin Blanket & Ellie Kate decided to work the graph in row by row and create a cute crochet top!
It turned out so cute. She worked the pattern in the round, then created a simple double crochet top.
However, I crocheted mine using a 5.5 mm crochet hook and a worsted weight yarn and it measures around 65″ x 65″!
Mind you, this graph was around 78 x 78 squares or so. The winter woodland animals graphs measure 58 x 79. So if you choose to work them with a larger weight yarn, you'll get a BIG blanket!
Working it Row by Row
I am working the Winter Woodland Reindeer in a row-by-row fashion in single crochet to create a cute wall hanging for the holidays. Here's what I have so far!
You can see the difference in size from working it in C2C vs Row by Row. this measures around 14″ wide, using a 4.5 mm hook and a I Love This Cotton yarn, which has a WPI of 14.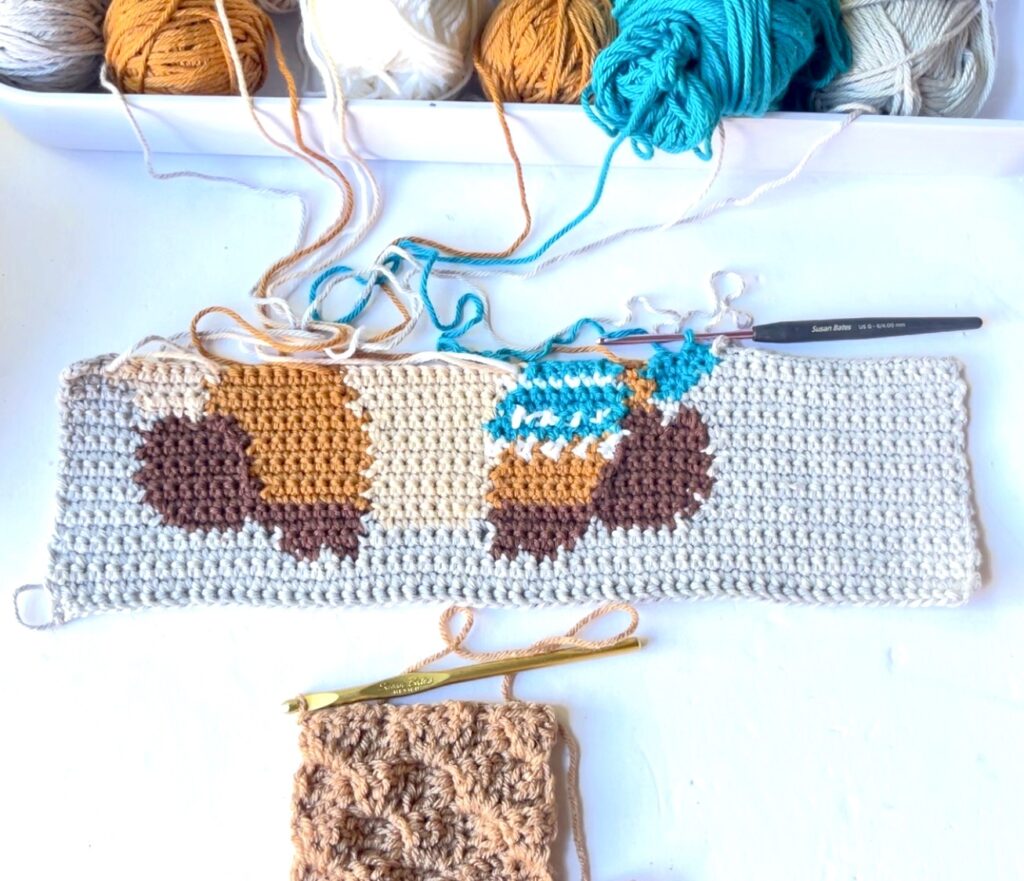 Furthermore, here is the reindeer by Wendy Chng! She does amazing work. You can see how big her blanket is, she is using a smaller hook and a 3-weight yarn.
Learn the fun crochet technique called Corner to Corner Crochet!
I've been working so hard to bring this crochet along to you and can't wait to start! Throughout the CAL, you will learn how to do corner-to-corner crochet.
Winter Woodland Animals Crochet Along Details
Let's get down to it!
When? – 🗓️ November 20 – December 22
(if you're doing the free CAL, please share your progress there and I will create an event to share your works too!)
FREE CAL – how it Works
The CAL is free here on the blog, but you can also get EXCLUSIVE ACCESS to ALL 8 PDF Patterns + FREE C2C Absolute Beginner Course with a full ALL-ACCESS ticket (see what's included here)
The Free CAL features the right-hand written pattern only here on the blog – Segments for EACH pattern will be premier free on the blog – Monday, Wednesday & Friday starting November 20.
During the CAL, I will be sharing the link to this post, then you can scroll down to the pattern your working – or just bookmark the page for easy access!
Grab Your Supplies!
You can use any yarn and hook for this project, but here are my recommendations – for each of the graphghan / pixel crochet pattern / c2c patterns.
If you go with another yarn, the total squares are listed here and you can head over to the C2C yardage calculator to see how many yards you will need!
Yarn Substitutions:
As I mentioned above, you can use any yarn you'd like. But, if you are looking for a similar 3-weight yarn to Love Crafts Simply DK – here are a few options to choose from.
There are some chunky & worsted weight recommendations too! Be creative and create your dream blanket!
Suggested Yarn: Simply DK Paintbox Yarns by Love Crafts or equivalent 100% Cotton, 302 yds (276 m), 3.5 oz (100 g) in the following colors. See the individual pattern links below to get colors for each pattern.
💲 $12.99 for 8 patterns + EVERYTHING BELOW = $1.50 per pattern! + the C2C course!
(you may need to disable pop up blockers for this – if not, just click this link)
Get the Bundle
---
What's Inside in Your CAL Ticket?
8 Full Written Patterns (50 pages each) – Each pattern is a masterpiece in itself, with 50 pages of detailed instructions and stunning visuals. I've got your crafting journey covered.
Color Blocks – Written pattern using blocks for easy color identification.
Exclusive Access to Mini C2C course – Learn the ins and outs of Mini C2C with our exclusive course.
Access to Weekly Crochet Get Together Q & A – Join me in weekly webinars to learn, share, and connect with fellow crocheters (Access inside the course).
EXTRA BONUS'
Graphghan (Pixel Crochet) Calculator Access (Google Sheet Document) – Calculate the exact amount of yarn you need for each color, considering your tension, hook size, and yarn type.
Right & Left Hand Written Patterns for C2C & Row by Row Versions – No matter your crochet style, I've got you covered with both right and left-hand instructions for C2C and Row by Row techniques.
Access links to Stitch Fiddle Graphs & Progress Tracker – Easily track your progress with ease using Stitch Fiddle, making your journey smoother.
Color Suggestions & Yarn Subs – Unleash your creativity with our color suggestions, or use your favorite yarn and make your project uniquely yours.
1 Large Graph – Get a large, clear graph for easy reference, ensuring your project turns out just as you envision.
4 Quartered Graphs – Breaking it down into quarters for a more manageable crochet experience, print, cut and tape together.
C2C Cheat Sheet – Crochet along effortlessly with my handy C2C Cheat Sheet, simplifying the process.
Basic C2C Border Cheat Sheet – Ensure your creation looks polished with the C2C Border Cheat Sheet.
If you'd like to just take the C2C course as a stand alone – you most certainly can! Access the course here.
Dive in at your own pace, and join our community in this exciting CAL journey.
Don't miss out on this fantastic crochet adventure! Get your CAL ticket today and make this holiday season the most creative and joyful one yet. 🧶🌟
Get Your CAL Ticket Now!
(you may need to disable pop up blockers for this – if not, just click this link)
Get the Bundle
Winter Woodland Animals Pattern Links
Patterns will be updated on Monday, Wednesday & Fridays from November 20 to December 22! Check back on these days to get the most updated pattern parts.
Thanks for being here and I hope you have SO much fun with this crochet along! I know I am having fun already! I can't wait to see all your beautiful creations.
Winter Woodland Animals C2C Crochet Blanket Patterns
Explore the wonderful world of crochet woodland animal pixel patterns! Pixel blankets are so much fun and you can use the charts to create so many different types of patterns, including blankets, tops, pillows, and more...
Here you will find all 8 winter woodland animals crochet pixel patterns, including the following: Bear, Reindeer, Bunny, Chipmunk, Fox, Raccoon, Hedgehog & Skunk!
Let's dive in!
Okay here we go!!! Please remember to share your progress and thanks so much for being here with me!!!